If your kid has pestered you for an iPad, mobile phone, tablet or any other gadget and you're now in a search for something that could benefit them, then there would be no any better option than smart watch.
So if you're curious about what actually a smart watch is, this blog is going to assist you with all the information related to that of smart watch. Also we're gonna tell you how and where to get the best smart watch for your kid.
What is a Smartwatch?
A smart watch is a device that is perfectly designed to wear around your wrist and assist user in multiple ways. It provides user interface over a very small screen of inches and has functionality similar to that of smart phone.
The functions of a smart watch may include training programs, speed display, GPS tracking, heart rate monitor compatibility, sport transitions, lap times, transfer of files etc, or even some smart watches allow to record or send voice.
Usually when smart watches launched, they were only targeting adults. But now smart watches are not limited for adults only but in fact there is a range of smart watch models on the market that oblige to a younger audience as well.
How Normal Smart Watch is Different from Kid's Smartwatch?
Smart watches for kids are made with the perception of safety and do not only benefit kids but also parents as well, e.g. by GPS tracker-which parents can use to ensure and track the location of their kids. Smart watches for kids are designed for kids to learn wholesome habits at an early age and inspire them to spend extra active time with circle of relatives and friends.
It provides features for both entertainment and learning development exercises and activities for kids. It provides kids with tracking app that encourages active play and healthy habits.
Some smart watches also provide with the health management app to track sleep and exercise patterns.
For entertainment purpose, these watches contain multiple types of games and other entertaining apps to ensure the fun activity of kids. Not only this, they also possess basic digital camera that kids can use to shot small videos and selfies.
Another feature similar to this, which the kids love, is the ability to use pictures as watch faces.
Working of a Kid's Smartwatch
The working of the kid's smart watch is almost similar to the normal watch except they are easier to operate. They run apps and other sorts of digital media e.g. audio tracks, Bluetooth connections, provide functions of a calculator, compass, thermometer etc. in addition to the calendar-just like other smart watches and smart phones.
Another useful feature of kid's smart watches is that they help kids in tracking various variables such as speed, wind direction, wind speed, number of footsteps etc. so that they stay enthusiast in achieving different fitness actions.
With the touch screen interface, it recognizes typical gestural command including swipe, pinch in, pinch out etc.
They use cell phone network technology to transmit radio signals from one device to another.
The access of internet in a smart watch make it more productive for the kids to understand and learn new words and things. They just need to speak and the voice recognition app after recognizing their voice provides them with the result in just seconds.
Why should Smartwatches are bought for kids?
If you're in a search for something that could help your kid to stay consistent then a smart watch is the best option that can teach your kid good habits and the conception of time.
[su_note note_color="#ffc36a" text_color="#333333″ radius="3″ class=""]
With the help of Reminding app, different sort of reminders could be set. For example, reminders for brushing teeth, sleep, study etc.
Via digital accelerometer, you can monitor your kid's activities and movements.
With the fitness app, your kid can track his footsteps, manage his exercising routine and stay motivated for different other physical activities.
With the entertainment features, the kid's mind would stay fresh and active.
With the emergency calling function, both parents and kids can transfer messages in urgency.
[/su_note]
These were some benefits that a kid's smartwatch can provide to both the kid and the parents.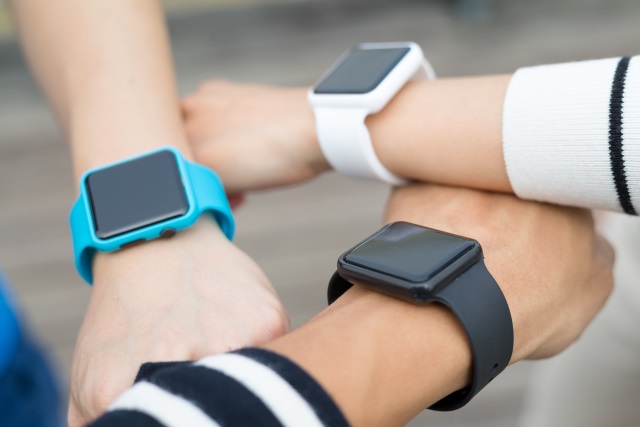 How to get the Best Smartwatch for your Kid?
Before buying a kid's smartwatch you must consider some important factors that could affect your purchase. There're some important elements that you must see before choosing a smartwatch for your kid:
[su_note note_color="#ffc36a" text_color="#333333″ radius="3″ class=""]
You don't want this to happen that your kid is outside and you can't track his location just and only because his watch's battery has been dead. For this reason, must choose that smartwatch whose battery life is quite enhanced.
Smartwatches could be expensive but you still will not want your all salary to be invested over that.
If it's your first time buying a smartwatch for your kid, try to choose less expensive route, so you get to know if it suits your need or not.
The most important reason for buying a smartwatch is its apps. Make sure it has and can install all the apps you need your kid's smartwatch to consist. For example, the tracking, fitness and other important apps.
[/su_note]
Where to get the Best Smartwatch for your kid?
If you're finding a smartwatch for your kid and still can't decide from where you should buy then there are plenty of options at different online stores.
There're many online markets which are providing best kid's smartwatches that can be up to your requirements.
The most prominent platform is Amazon, you can check over there and surely you'll find the best smartwatch for your kid. All detailed specification would also be written over there, so you could grab the one according to your need and want.